Here are 10 new Marriott hotels you'll want to visit in 2021
Marriott to suggest 10 new properties they thought would be most appealing in 2021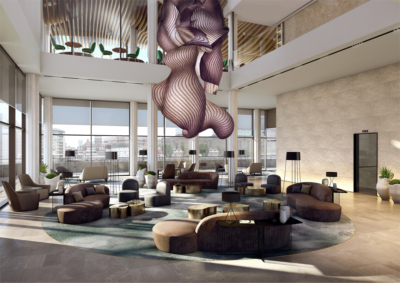 London
Westin London City
The Westin brand will come to the UK for the first time with this hotel in the heart of the City of London. The 220 room Westin will have panoramic views of the Thames and complete the northern Thames Path. There will be a riverside bar and restaurant with views towards Shakespeare's Globe and the South Bank. It is not on the website yet but is due to open later in 2021.
Crete
Domes Zeen, a Luxury Collection Resort, Chania
Domes Zeen opened as part of Marriott's Luxury Collection this Summer, but 2021 will be its first full season. It is located on the northern coastline of Crete, just 17km from Chania International Airport. The resort has 101 rooms that range from family bungalows to lavish villas. There's a Jungle Spa, brand new Greek restaurant and a range of outdoor experiences available including mountain biking, horse riding and sailing. It is a category 7 hotel. The website is here.
Dubai
Opening in time for the delayed World Expo 2020 next Autumn, The St Regis Dubai sits on the main trunk of Palm Jumeirah. Each of the 289 rooms has floor to ceiling windows, and the hotel will feature one of the highest infinity pools on the 50th floor as well as a rooftop viewing deck. The hotel also has an accompanying Beach Club with infinity pool, gym and fitness centre. The hotel is directly connected to the Nakheel Mall which has 350 shops, a 15 screen cinema and a variety of restaurants. It is a category 8 hotel. The website is here.
Rome
W Rome
Italy is getting its first W in Rome in spring 2021 with a 159 room hotel near the Spanish Steps and boutiques of Via Condotti. The W Rome will be in two converted 19th century properties, with a range of food and drinks options from Michelin-starred chef Ciccio Sultano. The W Rome will also feature a rooftop bar with views of Rome and an outdoor gym area. It is not on the Marriott website yet.
Lisbon
Moxy, Marriott's trendy-but-budget brand is opening a new hotel in Lisbon with rooftop pool and city views. The Moxy Lisbon City is set to open in January and will have 136 rooms, including family rooms with sofa beds and balcony rooms. I stayed in a Moxy in New York City and was impressed with what I saw – they're fun without breaking the bank. Lead in rates are from £43 per night and a category 4 hotel. The website is here.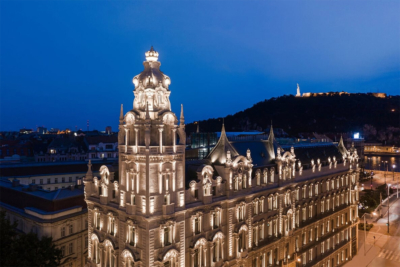 Budapest
Matild Palace, a Luxury Collection Hotel, Budapest
The Matild Palace is a new property, opening in March 2021 on the Pest side of Budapest. The hotel is a conversion of a 1901 UNESCO World Heritage site built by Her Imperial and Royal Highness Maria Klotild of Saxe-Coburg and Gotha as a neo-baroque palace. It is located in the heart of Budapest between the famous Vaci Utca, Szabad Sajto Utca, and Duna Utca, just a stone's throw from the Danube, at the western side of the Elizabeth Bridge. Lead-in rates are from £341 per night. It is a category 7 hotel. The website is here.
Tuscany
Grand Universe Lucca, Autograph Collection
Originally a 16th Century palace built by the city of Lucca's Paoli family, the building has been a hotel since 1857 and is now joining Marriott's Autograph Collection after a multi-million pound restoration. Lucca is a historic walled city in Tuscany (birthplace of Puccini!), and the Grand Universe is within walking distance of historic landmarks. The hotel has just 55 rooms and an Italian restaurant, a piano bar, rooftop bar and wine cellar. It is a category 3 hotel and has just opened. The website is here.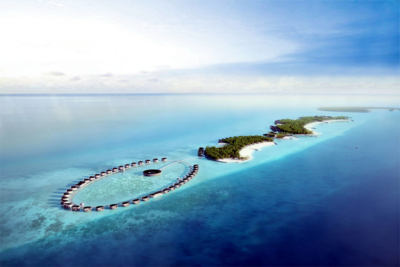 Maldives
Ritz Carlton Fari Islands Maldives
Just a 45-minute luxury boat from Malé, The Ritz-Carlton Maldives, Fari Islands is set within an integrated development with three islands and overwater quay. The resort features 100 land and over-water villas amid white sandy beaches and is complemented by seven restaurants and bars, The Ritz-Carlton Spa, Ritz Kids Club, tennis court, dive centre, fitness centre, photography studio and access to shopping, dining and entertainment at Fari Marina. It is a category 8 resort and opens in April. The website is here.
Osaka
The W brand is growing in 2021, with openings scheduled in Melbourne, Toronto and Osaka. Located on Midōsuji Boulevard close to shopping and nightlife, the W Osaka will be the first W hotel in Japan. The hotel will offer 337 guest rooms spread across 27 floors when it opens in March, as well as W Living Room, 3 speciality restaurants, a patisserie, deck and WET Bar. It is a category 6 hotel. The website is here.
Cairo
The St Regis Cairo actually opened this year after significant delays but you won't have had a chance to visit yet due to covid restrictions. The 366 room hotel is the first St Regis in Egypt and continental Africa. The St Regis Cairo is a 36-story tower on the banks of the Nile and features 7 restaurants and bars. It is a category 5 hotel. The website is here.
Bonus: Portugal
W Algarve
Portugal will also be getting its first W hotel in the Algarve in mid 2021. The hotel will have 134 rooms and 83 suites and is located directly on the waterfront. The W will have direct access to three beaches and a golf course.  All hotel rooms have sea views and suites will be complete with rooftop plunge pools.  It will also have a Sky deck offering unrivalled 220-degree view of the Algarve coastline.  It is not on the Marriott website yet.
To read more, click here.